"Going forward, there could be a small problem with Dagon and Jill in the chapter where young Jill lures a homeless man out onto a pier, then shoves him into the water…This is a wonderful empowerment metaphor about the rewards that come from facing scary things. However, legal is worried some might view it as mean-spirited. Could you include people from other cultures and races, who are also shoved off the pier, so as not to single out the homeless?"

—J.P. Mac, "Dagon and Jill"
"All life is fundamentally & inextricably sad…That is why I consider all jauntiness, & many forms of carelessly generalised humour, as essentially cheap & mocking, & occasionally ghastly & corpselike."

—H.P. Lovecraft to Frank Belknap Long, February 27, 1931 (emphases original to Selected Letters, Vol. 3)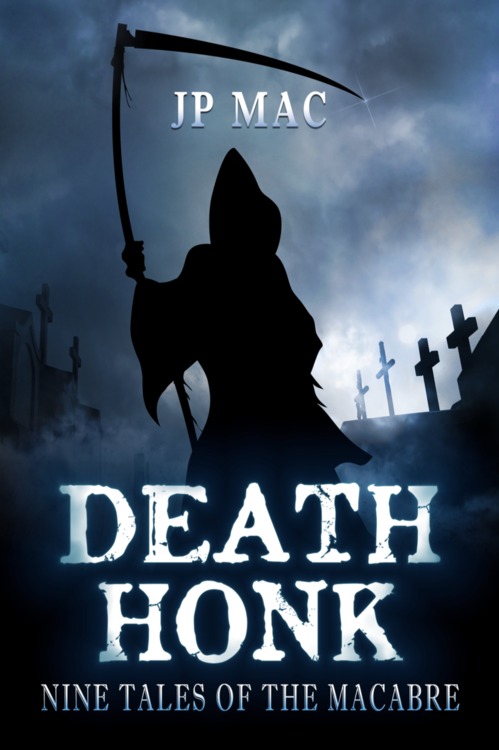 It ought not to be a surprise to even casual fans of Lovecraft that humor was neither his interest nor his forte. However, in the event you doubted that, in the event you thought, "No, the Old Gent surely enjoyed a chortle as much as the next bloke," his above quotation, taken from a 1931 letter to Frank Belknap Long, should serve to clear up any misconception on the matter. Lovecraftian humor is indeed very hard to pull off but, when it is successful, it is uproarious. JP Mac's story, "Dagon and Jill," had me actually laughing out loud. It can be found in Mr. Mac's self-published collection, DEATH HONK, but don't think this is an entire volume of humor because it is not. Our present story, however, is, and I believe it represents the first time on this blog that I've looked at a humorous work. In order to appreciate the humor you do have to be versed in your Lovecraft, but that should not be a problem for regular readers.
"Dagon and Jill" is structured as a contemporary epistolary exchange between Ezra Whateley and his editor, Martin Gelb-Crispling. Ezra, obviously a descendant of Old Wizard Whateley (likely from Wilbur's line, right?) who was one of the principal figures in "The Dunwich Horror," is attempting to publish a series of children's books. Their titles are "Dagon and Jill," "The Shadow Over Humpty-Dumpty," and A Children's Necronomicon," and Gelb-Crispling is trying to market them to the Los Angeles Unified School District's religious diversity program, "Different Voices, Different Ways." While Gelb-Crispling believes heartily in the project, particularly with its possibilities of being included in a large religious diversity program, his legal team is concerned with some of the content. I was already laughing at the idea of a legal team having issues with such a book, but the reason Mac provides (given in the opening quote) is what really got me going. The humor in the story continues in this original vein, and indeed pushes the envelope, but for me it rode that edge successfully and never crossed into the distasteful. One of my favorite parts was when the editor writes how his own kids enjoy the books: "My Shannon must have four salt shakers and twenty candles in her room. I hear her up there pronouncing those jaw busting spells you so love to write. Shannon even goes online and chants with other kids. They've started a Facebook page."
Amidst the humor there is a decidedly dark edge to the story mostly found in Ezra's letters. His are written in dialect, much like "The Dunwich Horror" featured the same, and also in an old-fashioned manner. He addresses Martin Gelb-Crispling as "Goode Martin," for example. Ezra's shrouded goal is to bring about the return of the Great Old Ones; he actually doesn't care at all about the selling of books, only the wide distribution of them. Gelb-Crispling begins to be concerned when reports reach him of some kids acting out the gruesome things about which they read, to the detriment of at least one postman.
Mac's writing is crisp, skilled, and on point. The two different narrative voices he has to deploy are well-realized and serve to put you in the story, almost as if you're a law enforcement officer, sorting through old letters trying to track down the origins of a ghastly mess. The contemporary setting is also well done, with Mac putting down just enough references to modern technology and pop-culture to assist the humor without being over bearing. This story is also just the right length, which is to say it is brief. Had it carried on much longer the humor would have worn thin and become groan-worthy, but Mac restrains himself to a good end. I can't say that it will be for everyone, as Lovecraftian stories are pretty niche to begin with before approaching Lovecraftian humor, but if you're an HPL fan and are in the mood for a quick story that provokes some good laughs, give it a try. And, if you're looking for something more traditional or creepy, the collection does feature mostly dark works, including one other Lovecraftian tale.
Despite what Howard said to Long, he wasn't dour all the time. So, after my sign-off I'll leave you with a photo of Lovecraft genuinely smiling, standing next to his friend William J. Dowdell.
Until next time, I remain yours in the Black Litany of Nub and Yeg,
~The Bibliothecar